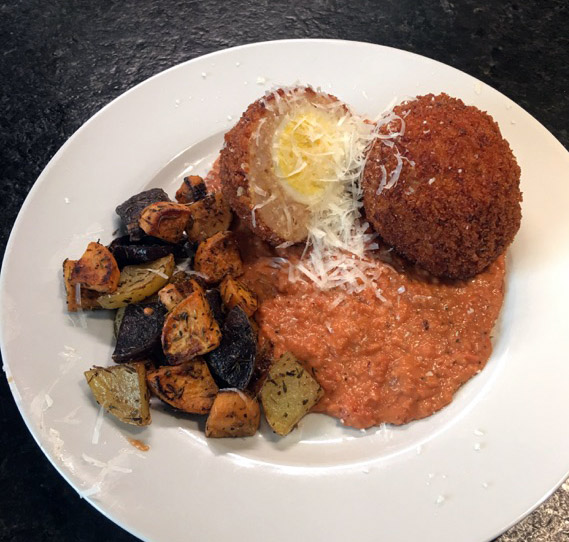 This Scottish field food has been a part of Scottish life for centuries. If you are good with your hands easy to prepare and delicious. This is an original!
This Scottish field food has been a part of Scottish life for centuries. If you are good with your hands easy to prepare and delicious. This is a true original!
Now served most often as bar food with a mustard sauce our Scotch Eggs hold a special place among our breakfast favorites. We serve our eggs over a southern "Alabama tomato gravy" along side of three color pan roasted herb potatoes and a dusting of pecorino cheese. Most honest Scotch eggs are made using course-cut pork sausage we however make them using our home made organic free-range chicken sausage. We flash deep fry the panko crusted packages before finishing them in a 400° oven. This completes the cooking without adding unnecessary fat.
Ingredients:
Scotch Eggs
5 large eggs, (best 2-3 weeks old for peeling)
1 1/2 lbs. fresh loose mild Italian/ or breakfast chicken sausage (homemade is best)
3/4 cup Plain Panko bread crumbs
Tomato Gravy
3 Tbsp. EVOO
1/2 cup diced smoked chicken (rather than bacon)
1/2 cup-diced yellow/white onion
2 - 28 oz. cans Furmano, quality petite-diced tomatoes (with juice)
1 - 14 oz. can Furmano, quality petite-diced tomatoes (drain juice)
1/4 cup quality balsamic vinegar
2 tsp. kosher salt
1 tsp. pepper
3/4 cup heavy cream
4 Tbsp. unsalted butter
​4 Tbsp. unbleached AP flour
Panko breadcrumbs (plain) for dredging
Directions:
Eggs
Place cold eggs into a large pan cover with hot tap water and over medium high heat until begins to boil, continue boiling 4 minutes.
Run cold tap water over eggs to stop cooking and drain and repeat. Under slightly warm running water carefully peel the eggs and set aside to reach room temperature. Remember boiled eggs are best once the eggs are 2-3 weeks old. Fresh eggs have not released their membrane from it's shell. Some people peel in a bath of water I prefer peeling under slowly running room temp water. Careful when starting, gently crack the larger bottom then easily roll the shell letting the shell carefully crack. Pulling that first piece of shell and also grabbing the membrane with the shell will help you to slip the side of your thumb between the membrane and the egg.
Rinse and then carefully dry the eggs.

Sausage layer
1 1/2 lbs. (24 oz) fresh loose mild Italian/ or breakfast chicken sausage (homemade is best, if the sausage is cased remove the casings)
Divide the sausage into 5 equal, 4.8 oz each portions. Have a small bowl of water on hand to keep your hands moist to more easily handle the sticky ground chicken. Sausage is gaged by the coarseness of the grind, so a larger hole grind is best, a 23 blade using a Kitchen Aid grinder attachment.
In making the chicken sausage you want to keep the meat as cold as possible. It is easier and tighter to handle.
Taking the ball/portion and dampening your hand push and pat the sausage between your hands until you have a hand sized patty. Place the egg in the center of the patty and then carefully move and manipulate the ground chicken up and over the top until it comes together. Pinch the opening and then roll around between your hands until you can feel that the layer is evenly distributed over the egg. The more you do this the easier it will become.
Place 1-2 cups of panko into a good sized prep bowl.
Line a 4-5" deep airtight flat bottomed storage container with parchment paper.
Gently sit the sausage covered egg onto the panko. This will prevent the egg from sticking in the container for overnight storage. Gently sit the panko side down onto the paper in the container.
Once all of the eggs have been covered, panko dipped and placed into the container sprinkle a small amount of panko onto the top of each egg, and cover with parchment before sealing the container. Place in the coldest part of the refrigerator overnight. Do not fully panko coat the eggs until the next morning.
Southern Tomato Gravy
In a 4 quart chefs pan
Med high heat sauté' diced chicken (pork) until beginning to brown 7-8 minutes. Add onion and cook until beginning to brown, an additional 5-6 minutes then add the diced tomatoes with the juice to deglaze' the pan. Add the salt pwppwerr and balsamic vinegar and continue heating 20-25 minutes until the tomatoes are beginning to soften and come together.
Using an immersion blender breakdown the tomatoes, chicken and onions until well blended into an even consistency.
Add 3/4 cup heavy cream to the gravy and heat through.
Make the Roux: roux (also rue) is a substance created by cooking wheat flour and fat (traditionally butter) and used to thicken.
In a small sauce pan add:
4 Tbs AP Flour
4 Tbs unsalted butter (never use salted butter)
Heat butter until just beginning to foam and then whisk in the flour, reduce the heat to low continuing to cook 3-4 minutes to remove the flour taste and making it taste toasty. Do not allow to brown, add the roux to the hot tomato mixture, stir until completely mixed, it will begin to thicken, reduce the heat to low and retain
The gravy can be held for up to 2 hours, with occasional stirring.
Preheat oven 400°
Pre-Heat the oil to 375°
Remove the eggs from the refrigerator and place each into the panko crumbs gently roll the eggs in the panko to entirely cover the eggs. Gently press the crumbs onto the egg. Once the oil has reach 375° gently place no more than 2 eggs at a time into the oil turning half way through browning, fry a total of 3-4 minutes, remove, drain, place each flash fried egg onto a sided cookie sheet covered with parchment paper make sure there is space around each egg.
Bake the Scotch Eggs at 400° for 20 minutes.
Remove and store in a warming oven at 165° (warming) until ready to serve. The eggs can be stored if lightly covered with a sheet of parchment paper in a warming oven for 35-45 minutes.
Serve atop a 6-8 oz. pour of Tomato Gravy then dusted with fresh grated pecorino (or Parmesan) cheese.
Serves 5, with 12-14 portions of gravy.
Dietary Facts:
Calories: 578
Carbs: 39g
Protein: 43g
Sugars: 3.2g
Fats: 14g